Scrum Master and Project Manager are two words that we come across in a project. Though they contribute to the roles on the projects, they are confused by young professionals unclear about the roles and responsibilities. In which case, how does on decide to choose to make a career call? In fact fresher to professionals wrestle with this industry jargon and titles, and start questioning what is scrum? What do you mean by scrum master? Project Manager is typical and traditional that we are schooled and well versed but scrum? Why they have to be named so differently? Are they one and the same? if they are different, how are they different? What makes them different?
Some understand Scrum Master to be the Project Manager in agile environment. It might be true to some extent but only to some extent. Clearly, there is an overlapping between these two roles but they differ far from each other.
By definition, The scrum master is the team role responsible for ensuring the team lives agile values and principles and follows the processes and practices that the team agreed they would use. ... Protecting the team from outside interruptions and distractions. A Project Manager is responsible to meet the project objective.

The objective of this article is to highlight the differences between the two roles. In case you are Project Manager considering to make a move to Scrum Manager or Scrum Manager shifting to Project Manager, this article will be a good read to understand the roles better.
So who is a scrum master and what does a project manager do?
Scrum Master vs Project Manager
So, let's start with understanding these two roles in detail:
Who is a Scrum Master ?
A scrum master is the facilitator who ensures that the scrum principles are adhered for an agile development team.
Scrum is a methodology that allows a team to self-organize and make changes quickly, in accordance with agile principles.
The scrum master manages the process for how information is exchanged.
What is Scrum Project Management?
Scrum project management is a methodology for managing software delivery that comes under the broader umbrella of agile project management. It provides a lightweight process framework that embraces iterative and incremental practices, helping organizations deliver working software more frequently.
Scrum Master Roles and Responsibilities
The scrum master is the team role responsible for ensuring the team lives agile values and principles and follows the processes and practices that the team agreed they would use. The responsibilities of this role include: ... Ensuring a good relationship between the team and product owner as well as others outside the team.
They help educate the team in Scrum, Extreme Programming (XP), Kanban, and SAFe, ensuring that the agreed Agile process is being followed. ... The Scrum Master role is taken by a team member whose primary responsibility is assisting the self-organizing, self-managing team achieve its goals; a Scrum Master is a servant leader.
Hence, Scrum Master provides the facilitation to the scrum team.

What is the role of the Project Manager?
Essentially, the project manager is accountable for the success or failure of a project. Typical responsibilities of a project manager include: Planning, Executing, and Closing Projects — defining the project, building its comprehensive work plan, and managing to the budget.
Clear Focus & Objectives. Project management is important because it ensures there's a proper plan for executing on strategic goals. ... As project managers, we position ourselves to prevent such a situation and drive the timely accomplishment of tasks, by breaking up a project into tasks for our teams.
Good Communicator. The ability to communicate with people at all levels is almost always named as the second most important skill by project managers and team members. Project leadership calls for clear communication about goals, responsibility, performance, expectations and feedback.
These are six must-have skills for project managers, Communication. Did you know that 90 percent of a project manager's time is spent communicating? ...
• Leadership. ...
• Team management. ...
• Negotiation. ...
• Personal organization. ...
• Risk management.
• As per PMI talent triangle, (reference PMBOK 6th Edition, page 57, figure 3 – 2):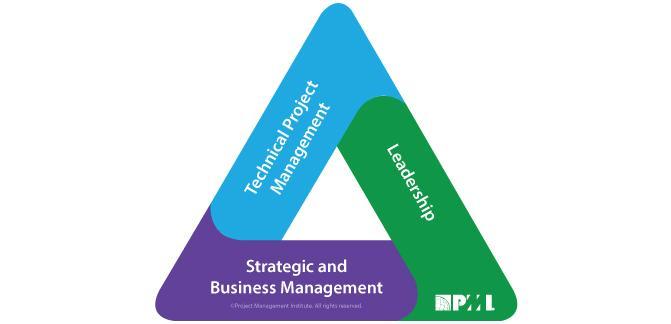 • Image Source: https://www.pmi.org
• "A project manager's competency includes following three skill sets:
• o Leadership
• o Technical project management
• o Strategic & business management" 
Scrum Master & Project Manager: Are they similar?
It is cleat by now that the roles are important but are different. They have different approaches even though some part do overlap. How are they similar? Lets have a look:
They both focus on team's performance and ensure ways to increase team's efficiency
Scrum Master involves with assistance and coaching while Project Manager involves with resolving conflicts and issues in the team
Both the roles aren't empowered with decision-making authority. Scrum Master helps the Product Owner in managing product backlog while a Project Manager will have to seek approval from cloent or other stakeholders.
Scrum Master and Project Manager require skillset, experience and experience to excel
Scrum Master and Project Manager stress on the importance of quality and strict adherence – quality of work
.
Scrum Master & Project Manager: What are the differences?
The real difference is the difference between a Scrum Master and an Agile Project Manager. ... A scrum master does not manage risk by him or herself. A project manager will take on the risk management responsibility without asking the team. A Scrum Master has only allegiance to the team
A Scrum Master works in smaller scrum teams. They are responsible for the performance of their small scrum team. ... Project Manager prepares the work schedule for the team member and assigns responsibilities. While a Scrum Master coaches the team on scrum and motivates them. 
Conclusion
We will understand Scrum Manager and Project Manager aren't the same. From the perspective of scope, the Scrum Manager might be limited to sprint while the Project Manager scope extends all the way to handover.
Overall, Project Manager's role is more of a Leadership role, While Scrum Master's duties include more of facilitating and coaching role.
---
Write a Comment
Your email address will not be published. Required fields are marked (*)
---