10 Steps To Becoming a PMP® Certified Professional
Companies and organizations across the globe are looking for skilled project managers to contribute to the success of their business. PMP® certification offered by PMI is structured on standards and benchmarks so as to enable the professional deal with real-time challenges. Project Management Professional (PMP)® certification is the gold standard for project management certification that's is designed and developed by practitioners for fellow practitioners.
Step 1 – It all begins from the PMP® Handbook
The
PMBOK®-version 6
is your principal book and you need to refer other sources like case studies, journals, white papers pertaining to project management. This will be useful to you for preparing for the PMP Certification exam. This book will instruct you about the process, procedures in applying for the PMP examination and cover all the knowledge areas in enabling you to become a project management professional (PMP).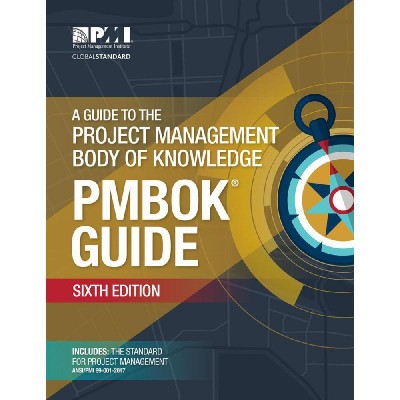 Step 2 - Fulfill the prerequisites in becoming a PMI certified project manager
The criteria stipulated by PMI ® clearly states the education background and number of hours of experience required in order to become eligible to apply for PMP ® exam.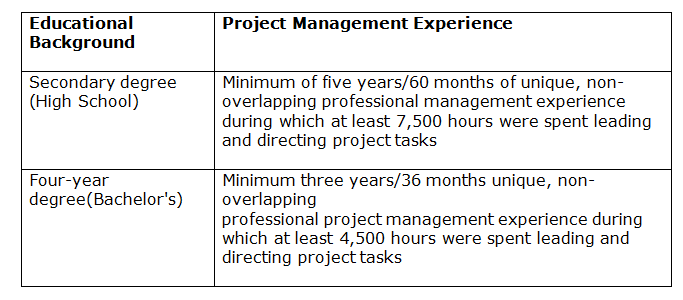 Step 3 – Enroll as a Member of your local PMI Chapter
Become a member of a
PMI
and get a bigger discount on the membership fee. You will also receive a free version of the PMBOK® -version 6 copy and discount on the PMP® exam. Additionally, you will be updated about the PMP workshops by virtue of the your PMI membership. Furthermore, you get chances to interact and network with the new and experienced PMPs, which in turn will drive your chances in clearing your exams in the first attempt.
Step 4–Fill up the PMP Application form
Once you have registered an account on the
PMI website
, you will be able to find the online application form for the PMP® Certification under "myPMI" section.
As per PMI, Complete Application
Once you've determined you meet the eligibility criteria, it's time to apply. Collect the following information and then use our online certification system to guide you through the process.
•
Contact information — email, address, phone number
•
Education attained — school attended, level of education attained, degree date
•
Domain experience — details of the projects, programs, portfolios you've worked on including qualifying hours, dates of employment, role, organization details, reference, and experience summary
•
Domain education — names of courses completed, institutions attended, dates, qualifying hours
Once you open an application, it will remain active for 90 days after which time it will close.
Step 5- sign up for your PMP Exam
There is nothing definite like a deadline. So , begin by registering in project management institute and then start filling up the PMP Credential Application. Once you have filled, kindly recheck. You need to submit to
PMI
for verification and further approval.
PMI
will post you a confirmation number, subject to your documents are in order, and then you may please plan your calendar and schedule a date and book your exam on
Prometric website
.
Step 6 - Study the PMBOK® Guide
The PMBOK® Guide is your principal book. So study and master it. It is the key source but not the only source. You can consider PMBOK® Guide as primary reference.
This guide has answers to most of the questions posed in the final exams and hence be thorough. Expert opinion has it that close to 75% of PMP® exam questions are from PMBOK® Guide.
Step 7 - Get study materials for self-study
As stated before PMBOK® guide is only the principal source. It is not the only source, so try to get study materials that you can access with regard to project management. Try to read as many as possible – the depth matters. With tons of information in the internet, you can make the most of the opportunity to your personal growth and benefit.
You need to earn PMP-stipulated 35 contacts hours or PDUs (Professional Development Unit) which cant be earned by self-study.
Step 8 - Attend a PMP® Workshop
To get the 35PDUs, you can enroll in a PMP® workshops for 2 to 6 days are conducted by PMI Chapters, universities, and training companies around the world. You will learn, engage, participate and knowledge transfer in these 4 days of intensive training programs conducted by professionals who are experts in their domains. These sessions are very interactive with instructors and fellow participants that instills confidence and gets you ready to take up the challenge in the form of PMP® certification exam
Step 9 – Attempt as many Sample PMP® Exam questions papers
Try to attempt as many as possible. There are lots of dumps available for free in the internet – go for it. Crack the question dump. Whenever you could, grab the opportunity and try it out. It is all about practice and keep practicing. The advice given by experts is that sample papers scores should be always 90% and above. If you can get that kind of score in your practice test consistently, you will clear in the first attempt.
Step 10 - Take the PMP® exam
Now, that all is done, its time to wrap up and appear for the exam on the scheduled date and time for your PMP® certification exam. Don't skip the short tutorial on how to use the computer and the software at the beginning of the exam to avoid a blunder.
PMP® Certification: Why should you get one?
PMP® does equip you with the knowledge considered essential and emboldens with a positive spirit to take the 'corporate bull by its horn'. 'Certified PMPs earn 25% more than non-PMPs'
Possessing a certification is not just a cosmetic facelift; it's all about cognizance. It stamps your understanding of PMP concept in measurable data good enough for interpretation and thereby allows validation of your profile that's close to correct. Globally recognized and demanded, the PMP® certification course as an accreditation clearly demonstrates your experience, education, competence and confidence to lead, manage and direct projects. PMP is a definite differentiating factor to distinguish you from peers. Very seldom an advertisement these days is placed without mentioning PMP as a mandate of skill and talent acquisition. A certified professional, on an average earns 10k per more year dollars as compared to an uncertified one. You are better with it than without.
Get free assistance from support team to Fill Application Form - support@icertglobal.com
---
Write a Comment
Your email address will not be published. Required fields are marked (*)
---