Top 10 Reasons to get an Agile Certification
Any Certification plays a key role in the career path as it holds solid proof of subject matter and continuous learning. Project management is one of the most challenging tasks as it ensures that the goals of projects closely align with the strategic goals of the business. Agile is an iterative method to develop software step by step taking frequent reassessment whenever required, instead of delivering the whole product after completion. An Agile certification validates the candidate's familiarity with Agile Framework and practices.
Average Annual Salary of Agile Project Management Certified Professionals.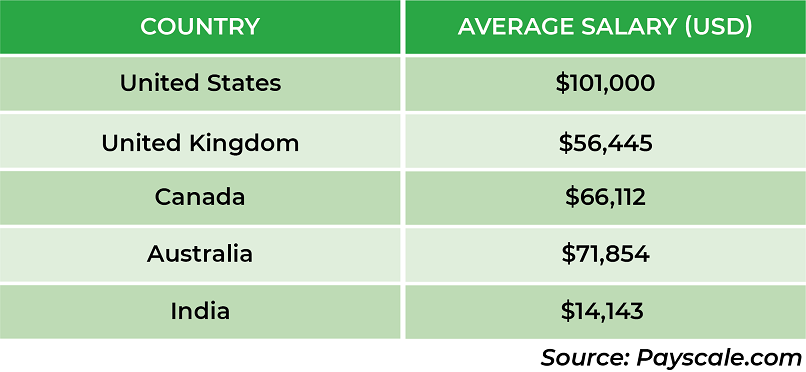 The average salaries per year of Agile Certified professional in different countries are: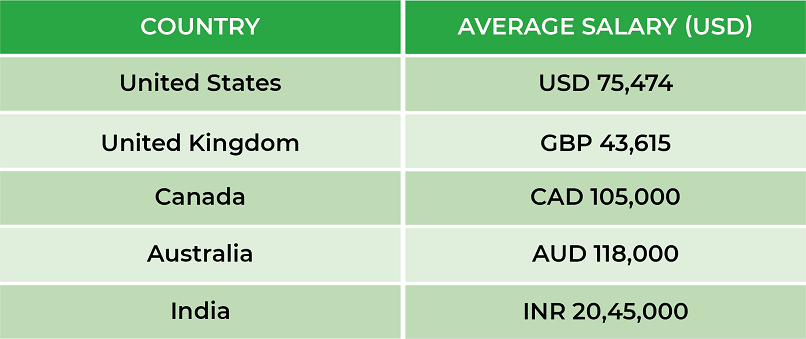 Benefits that highlight the prominence and prospects of getting an Agile certification and its impact on your work:


1. Quality Deliverables: By taking up an Agile certification, you will be able to adapt lean management structure effectively in which frequent reassessment is done, improving the quality of the product. The regular interaction with clients enhances the quality of deliverables.
2. Collaborative Approach: Once you adopt an agile methodology, there will be constantly learning and knowledge sharing as it is a team-based approach towards development.
3. Reduces Risk: It reduces the risk of the absolute failure of the project and increases your credibility. Risk mitigation is achieved by cross-functional teams, predictable delivery time, early warning of problems and transparency of management.
4. Better Delivery Predictability: In an agile methodology, Work is divided into phases termed as "Sprints". Usually, a week's span is allotted to each sprint. After completion, sprints are reviewed and evaluated by the managers. This way of approach provides more clarity on day to day schedule.
5. Transparency: The openness for inspection reduces risk and increase the business value. The transparent way of approach ensures a higher rate of customer satisfaction.
6. Ability to Manage Priorities: An early indication of clients requirements helps in setting out priorities. Uncertainty is solved earlier with respect to customer requirements and acceptance.
7. Increase Software Maintainability: Object-oriented code is written resulting technically superior product. The early warning of the problem is observed and solved within the iteration.
8. Improved Engineering Discipline: At every end of an iteration, the team conducts retrospective meetings (mini-lessons learned in that iteration). These meetings strengthen existing effective practices and improve or replace ineffective practices.
9. Definite Milestones: Milestones are set closely and each milestone is achieved with customer feedback and acceptance at the end of an iteration.
10. Predictable Cost Estimates: Rough estimates are done at the beginning of each iteration and due to the short loop of continuous feedback, re-estimates are done accordingly.
Benefits of getting an Agile Certification | For Your Career
1. An Agile Certification is globally recognized and in-demand worldwide.
2. Recognizes your expertise in using agile practices in your projects, while demonstrating their increased professional versatility through agile tools and techniques.
3. Carries a higher level of professional credibility as it requires a combination of agile training, experience working on agile projects, and an examination on agile principles, practices, tools, and techniques.
4. Supports individuals in meeting the needs of organizations that rely on agile project practitioners to apply a diversity of methods to their project management.
5. Demonstrates your level of professionalism in agile practices of project management to employers and potential employers.
6. Increases your professional versatility in both agile project management tools and techniques.
7. Accelerates the scope of your career as an Agile Certified Professional with career advancement, professional growth, and increase in salary and earning potential.
8. Enables you to
stand out from the crowd as an Agile Certified Professional
. Professionals with formal scrum training and an Agile certification have higher salaries than those without an agile certification, according to the
Scrum Master Trends Report 2019
.
9. Expands your market reach as an agile certified professional and provides you an opportunity to network with a vibrant community of agile professionals, related organizations, and experts worldwide.
10. Invest in your future. Invest in an Agile Certification to recession prooof your career. Agile professionals would retain their value even during a recession due to their strong and highly transferable core competencies.

So are you ready to take the plunge and navigate the sea of Agile and Scrum?
iCert Global
offers Agile based Certification in
PMI-ACP®
, CSM, CSPO, Agile and Scrum, and SAFe® (Scaled Agile Framework): SAFe® Agilist.
For more information on how iCert Global can help you to accelerate your career with Agile certification, please e-mail info {at} icertglobal {dot} org or call now on +1-713-287-1213/ 1214 / 1053 / 1355. Visit us at
https://www.icertglobal.com/
---
Write a Comment
Your email address will not be published. Required fields are marked (*)
---