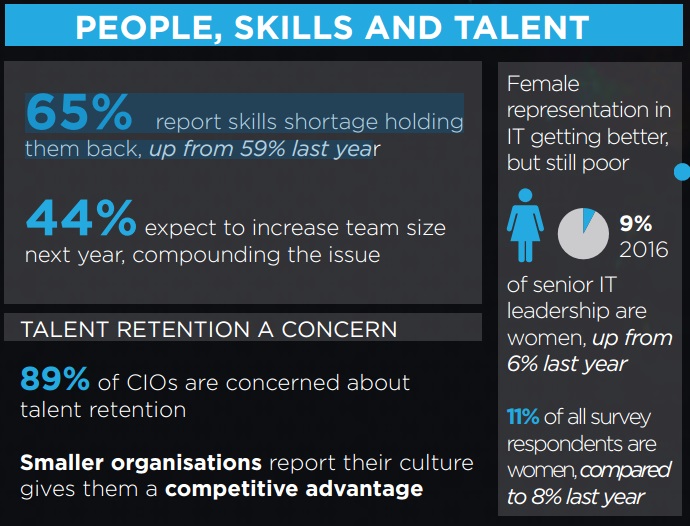 source: KPMG CIO SURVEY
Exploring New Avenues
The latest version of PMBOK-version 6 is a mix of traditional practice and agile methodology It explores ways by which the blended model can be leveraged. Is it possible to have an agile methodology within waterfall? The theory of agile in waterfall in put into test and tried and probably the reason to introduce agile is in all the 10 knowledge areas. The upgrade is both from technology and technical front.
Talent is Top-line
PMP
's exam eligibility criteria are a clear indicator about your prowess and proficiency. Clearing the exam and certifying yourself as PMP professional is is a distinct differentiator. . That's the kind of talent the industry is scouting. Companies are on the lookout for such professionals who are professionally certified, and
PMP
stands in the top 5 ranking certification. So, you become the talent that the company wants to tap.
Close the Skill Shortage
Recruiters are finding it increasingly painful in on-boarding the right resource.
PMP
proves handier in screening and shortlisting. The latest PMP certification acts as a catalyst. There are only 833,025 active PMP certified individuals when the demand far exceeds the supply. Hence, it does make the PMP certified professionals most eligible and elite. On a global scale 833,025 active PMP certified individuals doesn't really add up to the requirement. And
PMP
certification has become even more difficult. So, the latest certification will have its own shine and significance.
Earning Power
The PMI global survey clearly states that the median salary of U.S.-based respondents holding a PMP certification was$111,000 versus a median salary of $91,000 for participants without PMP certification. And the difference is obvious. And don't miss on the perks.
Diversified Platform
The PMP call is not confined o the Information technology space. In fact, any project undertaking would want qualified professionals. So long there is a need for project management professional, be it civil or architecture or IT,
PMP
certification holds good and commands respect.
Its time for you take up the exam.
---
Write a Comment
Your email address will not be published. Required fields are marked (*)
---