#1 Global Recognition
#2 Enhances Agile Skills
#3 Increases Professional Credibility
#4 Higher Job Opportunities
#5 Higher Pay
#6 Career Advancement
#7 Professional Versatility
#8 Expands Market Reach
#9 Get More Lucrative Assignments
#10 Recession-Proof Career
Project Management Institute's Agile Certified Practitioner (PMI-ACP®) is an industry-recognized certification, accredited by the Project Management Institute (PMI®).
Agile is an iterative method to develop software step by step taking frequent reassessment whenever required, instead of delivering the whole product after completion.
PMI-ACP course is mostly sought by Project Manager or aspirants following Agile practices and trains about the concepts, principles, methodology, tools and techniques employed in managing projects.
PMI-ACP® certification proves your net worth as an Agile practitioner and empowers you with the knowledge and confidence in a framework that's gaining traction and adoption by leading corporate.
PMI-ACP validates your knowledge and experience on agile principles and hands-on agile techniques.
This certification has been designed to:
Demonstrate to employers the practitioner's level of professionalism in agile practices of project management.
Increase the practitioner's professional versatility in both project management tools and techniques.
According to the 13th State of Agile Survey Report (2019),
71% of respondents adopted agile because it reduces project cost
74% of respondents adopted agile as it accelerates the software delivery
51% of respondents claim that adopting agile increases productivity
43% of respondents stated adopting agile enhances the product quality
Prerequisite: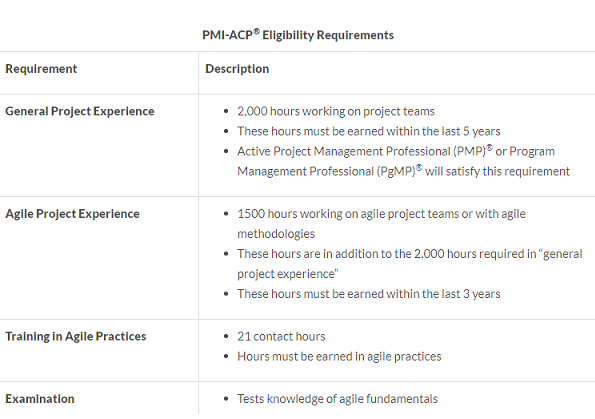 For more information on eligibility criteria, you can go through PMI-ACP Handbook
PMI-ACP is based on different frameworks and agile approaches such as:
Scrum
Kanban
Lean-Agile Practices
Extreme programming (XP)
Test-driven development (TDD)
PMI-ACP Certification fee
Target Audience
Project Managers
Agile Project Managers
Agile Developers
Product owners
Business Analysts
Scrum Masters
Scrum Team Members
Program managers
Project team members
Professionals aspiring to shift from waterfall methodology to agile methodology
10 reasons to get PMI-ACP certified:
1. Global recognition: PMI-ACP is globally recognized and in-demand certification by PMI.
2. Enhances agile skills: Gain expertise in using agile practices in your projects and get hands-on agile experiences.
3. Increases professional credibility: Carries a higher level of professional credibility as it requires a combination of agile training, and work experience in agile projects and knowledge.
4. Higher Job Opportunities: As the adoption of agile methodology is increasing day by day, job opportunities are also increasing.
5. Career advancement: PMI-ACP certification allows you to advance your career in organizations practising agile. Certified PMI-ACP professionals can become agile trainers and agile coaches.
6. Higher pay: Certified PMI-ACP professionals get a 28% higher salary than non-certified professionals. According to Indeed.com, the average annual salary for certified PMI-ACP professionals for different roles are given below:
7. Professional Versatility: As a certified professional you might get a chance to lead the team, work in different projects and enhance your project management skills with agile tools and techniques.
8. Expands market reach: Certification in PMI-ACP expands your market reach as an agile certified professional and provides you with an opportunity to network with a vibrant community of agile professionals, related organizations, and experts worldwide.
9. Get more lucrative assignments: Certified professionals are more likely to get challenging projects and opportunities to handle valued projects.
10. Recession-proof career: Invest in your future with PMI-ACP certification. Agile professionals would retain their value even during a recession due to their strong and highly transferable core competencies.
Career opportunities
PMP Scrum master
Technical business analyst
Agile trainer
Project Manager
Digital Channel planner
Deputy Project Manager
Director - planning and Project management
Business Analyst
Agile Project Manager
Do visit our Corporate Training to know more about core offerings for enterprises in empowering their workforce.
iCert Global offers Agile based Certification:
Download our Free PMI-ACP Brochure for more information.
For more information on how iCert Global can help you to accelerate your career with Agile certification, please email info {at} icertglobal {dot} org or call now on +1-713-287-1213/ 1214 / 1053 / 1355. Visit us at https://www.icertglobal.com/
---
Write a Comment
Your email address will not be published. Required fields are marked (*)