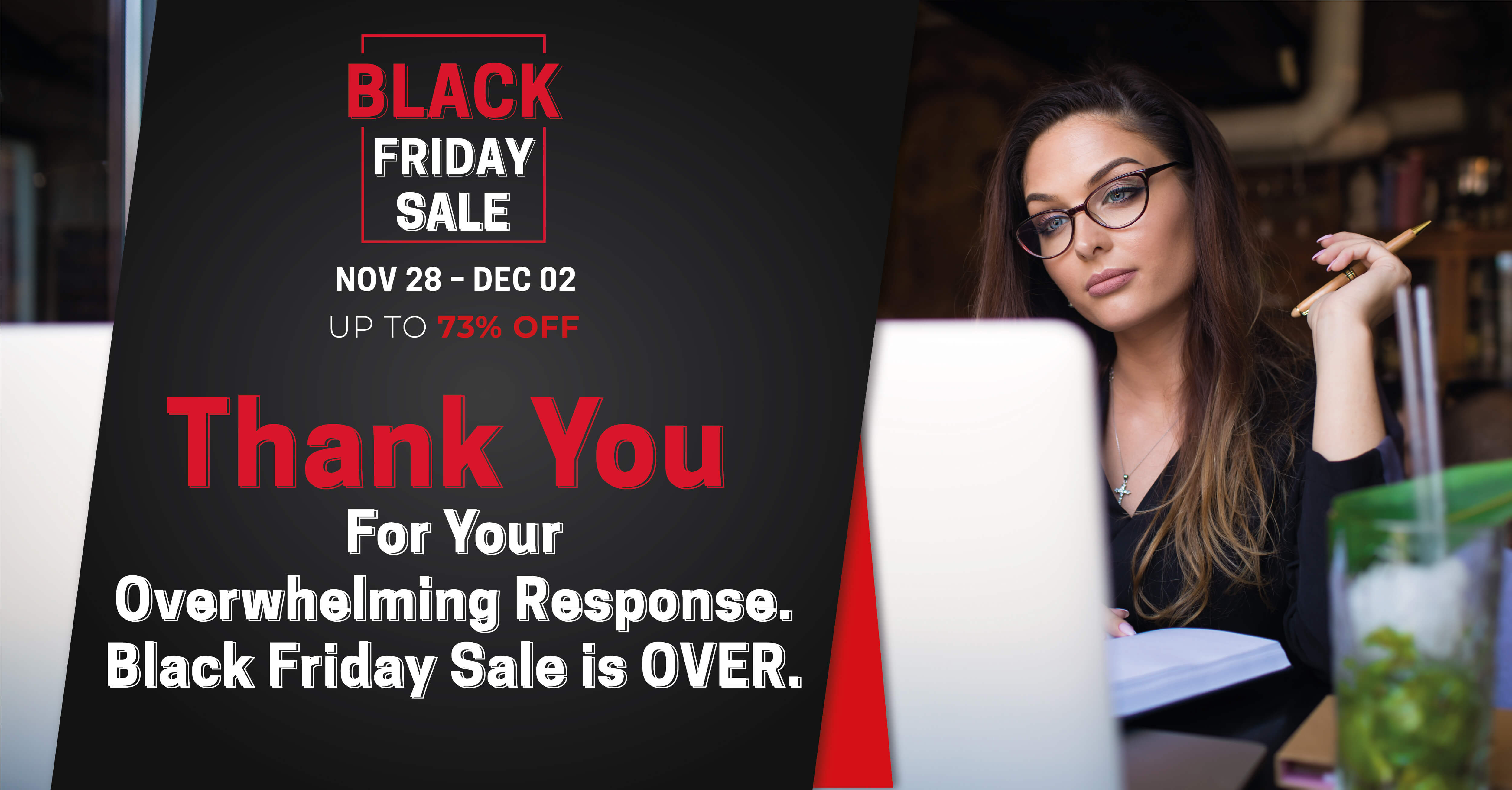 Thank you for your overwhelming response to our Black Friday Sale 2019.
Black Friday Sale 2019 is Over.
Please fill-in the
Enquiry Form
below for more information about our certification training courses. Our Training Consultant will contact you within one business day.
You may also reach out to us on +1-713-287-1213 / +1-713-287-1214. Thank you.
Live Now! Black Friday Sale. Up to 73% Off on Classroom and Live Online training courses across the United States, Canada, United Kingdom, and Australia.
Get ready for Mega Discounts on offer for our Classroom and Live Online Training courses at a location near you.
On Popular Demand: Black Friday Sale Extended up to 6pm CST (Central Standard Time) 3rd December 2019.
Black Friday Sale:
Extended up to 3rd December 2019 6pm CST.
Starts: Midnight (CST) Thursday, 28th November. Central Standard Time.
Ends: 11:59pm (CST) Monday, 2nd December. Central Standard Time.
Choose from 11 professional certification training courses across 5 categories to fast track your career and take it to the next level as you step into the new year. We conduct Instructor-led Classroom and Instructor-led Live Online Certification Training courses to enable working professionals to enhance the scope of their careers. Select certification training courses from Project Management, Business Analysis, Quality Management, Agile, and DevOps to accelerate your career. Don't miss these Black Friday mega deals.

Popular Categories:
---
Terms and Conditions:
Black Friday Sale Deals are valid for courses from 1st December 2019 to 31st January 2020.
Black Friday Sale Deals are valid for all Classroom, Live Online Training and E-Learning Courses in the United States, Canada, United Kingdom, and Australia.
Discount Code is Not Required for any Purchase.
Prices are as seen on respective web pages for Courses with Black Friday Deals.
Black Friday Sale starts at midnight (CST) on 28th November 2019 and ends at 11:59pm CST on 2nd December 2019.
All timings are as per Central Standard Time (CST).
Maximum 10 Purchases are allowed per User (e-mail id).
Black Friday Sale discount is valid only on courses scheduled between 1st December 2019 and 31st January 2020.
Black Friday Sale deals are valid on Select Courses in the United States, Canada, Australia, and United Kingdom for Classroom Training, Live Online Training and E-Learning Courses.
Black Friday Sale from Nov. 28 to Dec. 02, 2019 is valid ONLY for the below-mentioned courses in the United States, Canada, United Kingdom, and Australia.

Should you have any questions, please e-mail us at info {at} icertglobal {dot} com or Call Now! on +1-713-287-1213 / +1-713-287-1214 / +1-713-287-1053 / +1-713-287-1355
Fast Selling Courses in the United States
Company
Legal
Associate With Us
Contact Us