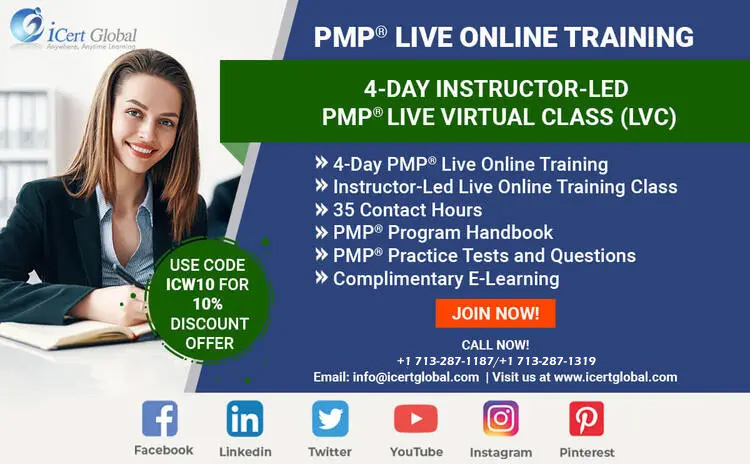 Course Overview & Key Features
iCert Global conducts 4-day Instructor-led PMP Live Online Training courses worldwide.

Live Online Training also known as Live Virtual Class (LVC) is a preferred medium to take training as it provides you the benefit of learning from the comfort of your home or office without having to travel long distances. Plus, Live Online Training can be customized as per your time zone to enable you to learn at your convenience.

Live Online Training combines the benefits of a classroom like interactive training session and the convenience of learning from your home or office.

Instructor-led 4-day PMP Live Online Training / Live Virtual Class (LVC) available on-demand as per your timezone.

Advance your Project Management Career in 2020. Enroll Now! for our PMP Exam Prep Live Online Certification Training Course from anywhere in the world.

Please follow link below to view our PMP Live Online Training course schedule at a location near you.
View PMP Live Online Training Course Schedule.


Project Management Professional (PMP®) is an internationally recognized professional designation offered by the Project Management Institute, Inc (PMI).  As of August 2019, there are 932,720 active PMP certified individuals across 218 countries worldwide. The exam is based on the PMI® Project Management Body of Knowledge.
Our PMP Online Training Course helps you to learn PMP skills which impact you to  advance your career.
Learn from an Instructor through a Live PMP Online Training Class conducted either through Cisco WeBex or Citrix GoToMeeting.

Key Features:

4-day full-time intensive PMP® Live Online Training
35 Contact Hours Certificate, which is a Mandatory requirement to appear for the PMP Examination
PMP Live Online Training conducted by an expert instructor
5 full-length PMP Exam Prep Practice Tests
2000+ PMP exam prep practice questions
Complimentary access to PMP E-learning course
PMP Program Handbook based on PMBOK® Guide - 6th Edition
Help with PMP Exam Application Process
Interactive PMP Live Virtual Class is available for both weekends and weekdays
Instructor-led PMP Classroom Training also available on demand

Benefits of PMP® certification:


Globally recognized and in-demand worldwide
Demonstrates your Project Management knowledge, experience, and skills to potential employers and clients
Provide professional skills necessary to lead project teams and bring projects to successful completion
Command higher salaries than non-certified individuals by showcasing competency in leading and directing projects with a PMP Certification
Accelerate your career to greater heights with a globally recognized Project Management certification
Improve your chances of growth by demonstrating your Project Management knowledge through an international certification
Fast Selling Courses in the United States